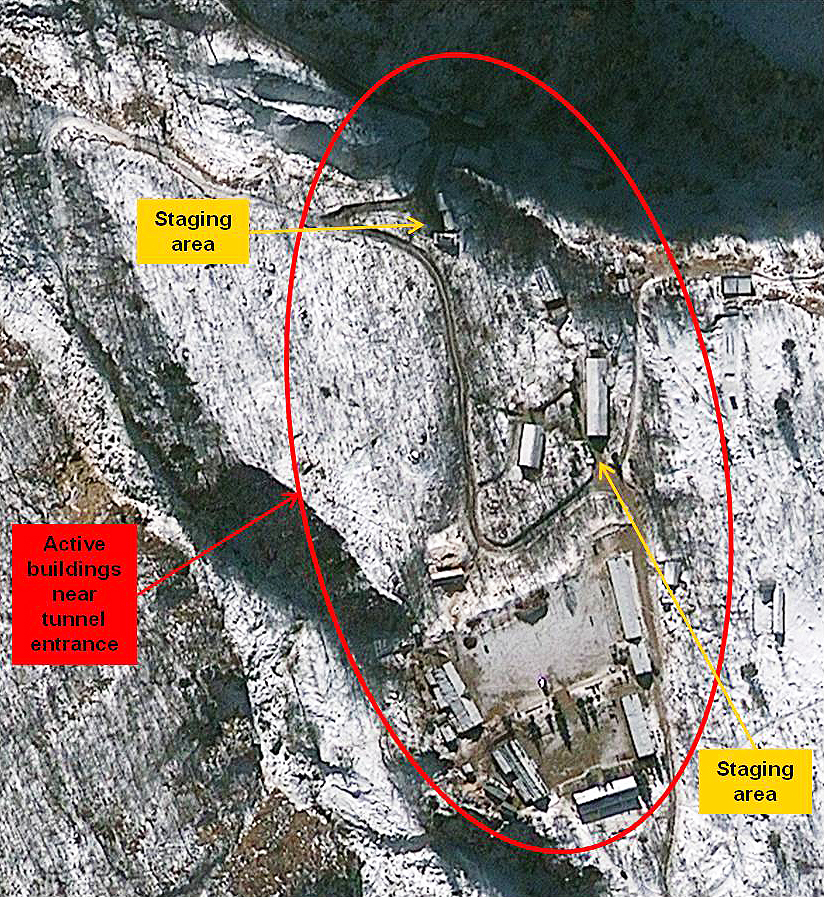 Photo above from
http://www.scmp.com/news/asia/article/1137842/activity-seen-north-korea-atomic-test-site
with caption "This January 4 [2013] satellite image shows North Korea's Punggye-ri test facility where roads have been kept clear of snow over the past month. Photo: AP. [article further states] ...
The North's two previous detonations in 2006 and 2009 followed a similar pattern of a missile launch, followed by UN measures, followed by a nuclear test
".
Map indicates Phunggye-ri [re] North Korea's 2006 nuclear test site and site of the test (probably) in the next few hours or days. Nearby Kilju was the 2009 test site.
-----------------------------------------
Separately
Agency France Press
via
The Age
, February 12, 2013, reports
http://www.theage.com.au/world/n-korea-withdraws-from-nuclear-test-site-20130212-2e9gz.html
"N Korea withdraws from nuclear test site
Seoul:
North Korea has pulled manpower and equipment out of its nuclear test site, says a report, which cites the move as a possible sign of an imminent blast.
South Korea's
Yonhap news agency
says Seoul has been keeping close watch on the underground Punggye-ri nuclear test site, as no movement of manpower and equipment has been observed there since Friday.
The agency quoted an unnamed source as saying the apparent withdrawal could point to a nuclear test being carried out soon.
...Seoul has predicted Pyongyang may carry out its third nuclear test between the end of the holiday and the late leader Kim Jong-il's birthday on February 16, Yonhap said..."
WHOLE ARTICLE
-
Pete