Vietnamese President Truong Tan Sang shakes hands with Russian President Putin. Russia will build Vietnam's first two nuclear energy reactors. Vietnam currently has a small research reactor at Dalat.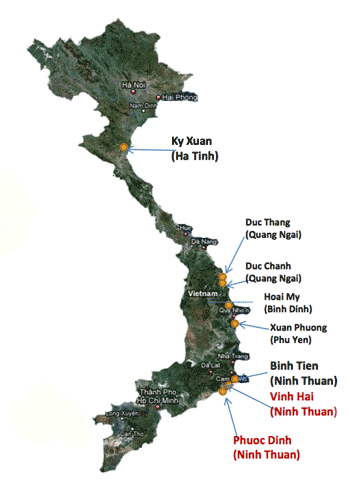 Map of Vietnam showing location of two reactors to be built by a Russian company at Phuoc Dinh (marked in red) and two reactors to be built by a Japanese company at Vinh Hai (also in red). The Vietnamese master plan, issued in 2011 also envisages later reactors (marked in black) at Ha Tinh/Ky Xuan, Duc Thang, Duc Chanh, Hoai My, Xuan Phoung and Binh Tien.
------------------------------------------------------------------------------
Pete's Comment
The Obama Administration negotiated a nuclear cooperation agreement with Vietnam on October 10, 2013, subject to lengthy US Congressional ratification, of course. In the negotiations the US appears to have accepted an ambiguous Vietnamese undertaking not to reprocess spent fuel for Plutonium or enrich Uranium in future.
In its approach to nuclear commerce the US is at pains to weigh up non-proliferation ideals with commercial pressures. The US needs to be competitive with other nuclear supplier countries in giving customer countries (like Vietnam) what they want. The US has a lot of competition as Vietnam has
already signed
nuclear cooperation agreements with Russia, France, China, South Korea, Japan and Canada. Vietnam is clearly signing many agreements to increase competition among suppliers, particularly for the supply of credit finance to Vietnam.
Vietnam's nuclear cooperation agreement with the US most probably does not prevent Vietnam obtaining reprocessing and enrichment technology from non-US suppliers. Vietnam is non-aligned, that is it is not an ally beholden to the US.
--------------------------------------------------
NTI's Global Security Newswire
reports October 10, 2013
http://www.nti.org/gsn/article/us-vietnam-announce-new-atomic-trade-deal/
:
"Vietnam Agrees to Not Enrich, Reprocess Material in Nuclear Deal with U.S."
"Vietnam and the United States on Thursday inked an
atomic trade deal
that U.S. officials said included an agreement by Hanoi not to reprocess spent nuclear fuel or enrich uranium -- technological processes that have applications in the development of warheads,
Agence France-Presse
reported.
Hanoi has promised "not to acquire sensitive nuclear technologies, equipment, and processing," a high-ranking Obama administration official informed journalists.
The pact was anticipated, and
Global Security Newswire
on Wednesday reported it was likely to be initialed before week's end.
The bilateral accord was signed on the margins of the East Asia summit in Brunei by U.S. Secretary of State John Kerry and Vietnamese Foreign Minister Pham Binh Minh.
Nonproliferation specialists want the Obama administration to extract promises from nations with which it enters into new nuclear-cooperation agreements to not enrich or reprocess atomic material on their own soil -- the so-called "gold standard" -- in order to limit the global spread of the technical capabilities needed to produce warhead-grade material.
"This agreement will create numerous opportunities for our businesses," Kerry said to his Vietnamese counterpart in Brunei, according to a
Reuters
report. "Obviously our nuclear cooperation is quite significant."
In addition to allowing Vietnam to import sophisticated U.S. nuclear-power technology, the trade deal "will also strengthen the Obama administration's long-standing policy of limiting the spread [of] enrichment and reprocessing capabilities around the world," an unidentified U.S. official said.
[Contradicting the US statement that Vietnam has no reprocessing or enrichment intentions] Unidentified U.S. officials were reported by the
Wall Street Journal
as saying that Vietnam would retain the right down the road to enhance its nuclear power abilities, either through recycling [reprocessing?] used reactor material or by enriching uranium."
--------------------------------------------------------------------------
NTI Background - Vietnam's Nuclear Program
http://www.nti.org/country-profiles/vietnam/
"Vietnam is poised to be the first Southeast Asian country with nuclear power, although a number of capacity-related obstacles may delay this.[6] On 21 July 2011, the [Vietnamese] Prime Minister approved the
National Master Plan for Powered Development for 2011-2020 with the Vision to 2030.
[7] The Plan calls for ten reactors to be built, with the first completed by 2020.
Russia
's Atomstroyexport will build Vietnam's first nuclear power plant at
Phuoc Dinh
(Ninh Thuan 1), consisting of two 1000MWe reactors.
Russia has agreed to provide the majority of financing for the project
—up to $9 billion according to a November 2011 agreement—and will provide additional assistance such as training and fuel services, including construction of a Nuclear Science and Technology Center and
spent fuel
take-back for the reactors.
Japan
has agreed to construct a second nuclear power plant at
Vinh Hai
(Ninh Thuan 2), composed of two 1000MWe reactors, and to provide additional training and assistance.[8]
Vietnam already maintains a
research reactor
at the
Dalat
Nuclear Research Center, which has operated since 1963.[9] The Dalat reactor is a TRIGA-Mark II built by the US in 1960, with a capacity of 250 kW.
In preparation for the construction of its
nuclear power plants
, Vietnam has expressed a willingness to improve its domestic capacity and cooperate with the IAEA. ...in 2010 Hanoi established the Vietnam Atomic Energy Agency (VAEA) to oversee research, development, and project management...
Despite US Congressional pressure to uniformly apply the "gold standard" to new 123 agreements [Section 123 (concerning nuclear cooperation) of the
United States Atomic Energy Act of 1954
] the Obama Administration has stated that it intends to negotiate the terms of all agreements on a case-by-case basis.[18] Although a Vietnamese official stated that "Vietnam does not plan to enrich uranium, which is a very sensitive issue," Hanoi appears reluctant to agree to the inclusion of a no-enrichment and reprocessing pledge in the 123 agreement.[19] Like many non-nuclear weapon states, Vietnam believes that the NPT affords it the right to all capabilities associated with the peaceful nuclear fuel cycle, and is therefore likely on principle to refuse to sign an agreement holding it to a different standard than most other treaty members.
From preliminary surveys, Vietnam has uranium ore in the northern and central parts of the country estimated in the amount of 210,000 tons of U3O8.[20] The Vietnamese government signed an MOU with NWT Uranium Corporation of Canada to conduct exploration and assessment of these areas.[21] Vietnam concluded a nuclear cooperation agreement with Japan in October 2011 that includes the exploration and mining of uranium resources. An agreement with
India
includes a uranium ore processing technology study.[22]
As of 2008,
Jane's
reports that Vietnam currently deploys Russian-supplied
Scud
, Styx, Switchblade, and Stooge missiles, and
North Korean
-supplied Scud C variants.[48]
Notes
[6] Norimitsu Onishi, "Vietnam's Nuclear Dreams Blossom Despite Doubts,"
The New York Times,
1 March 2012, www.nytimes.com.
[7] "Quy hoạch phát triển điện lực quốc gia giai đoạn 2011 – 2020 có xét đến năm 2030 [National Master Plan for Electricity Development, period 2011-2020 with Vision to 2030]," 21 July 2011, via: http://vietlaw.gov.vn.
[8] Le Doan Phac, "Vietnam's Nuclear Power Development Plan: Challenges and Preparation Work for the First Nuclear Power Projects," presentation at INPRO Dialogue Forum on Nuclear Energy Innovations, Vienna, 10-14 October 2011, www.iaea.org;
[9] "Dalat Research Reactor," IAEA Research Reactor Database,
http://nucleus.iaea.org/RRDB
.
[18] Elaine M. Grossman, "Administration Letter Promises 'Case-by-Case' Approach to Nuclear Trade Deals,"
Global Security Newswire,
23 January 2012, www.nti.org.
[19] Foster Klug, "US-Vietnam Nuke Deal Will Likely Allow Enrichment,"
The Huffington Post,
7 August 2010, www.huffingtonpost.com; Jay Solomon, "U.S., Hanoi in Nuclear Talks,"
The Wall Street Journal,
3 August 2010, http://online.wsj.com.
[20] "Vietnam Country Profile," International Atomic Energy Agency, http://www-pub.iaea.org.
[21] "NWT Uranium Corp. Signs Memorandum of Understanding with Vietnam Atomic Energy Institute," Reuters
,
7 September 2010, www.reuters.com.
[22] Toko Sekiguchi, "Japan, Vietnam to Move Forward on Nuclear Deal,"
The Wall Street Journal,
31 October 2011, http://online.wsj.com; "Nuclear Power in Vietnam," World Nuclear Association, January 2012,
http://www.world-nuclear.org
.
[48] Duncan Lennox, ed., "Country Inventories – In Service,"
Jane's Strategic Weapon Systems,
Issue Forty-eight, January 2008, p. 25.